BPI MS Officers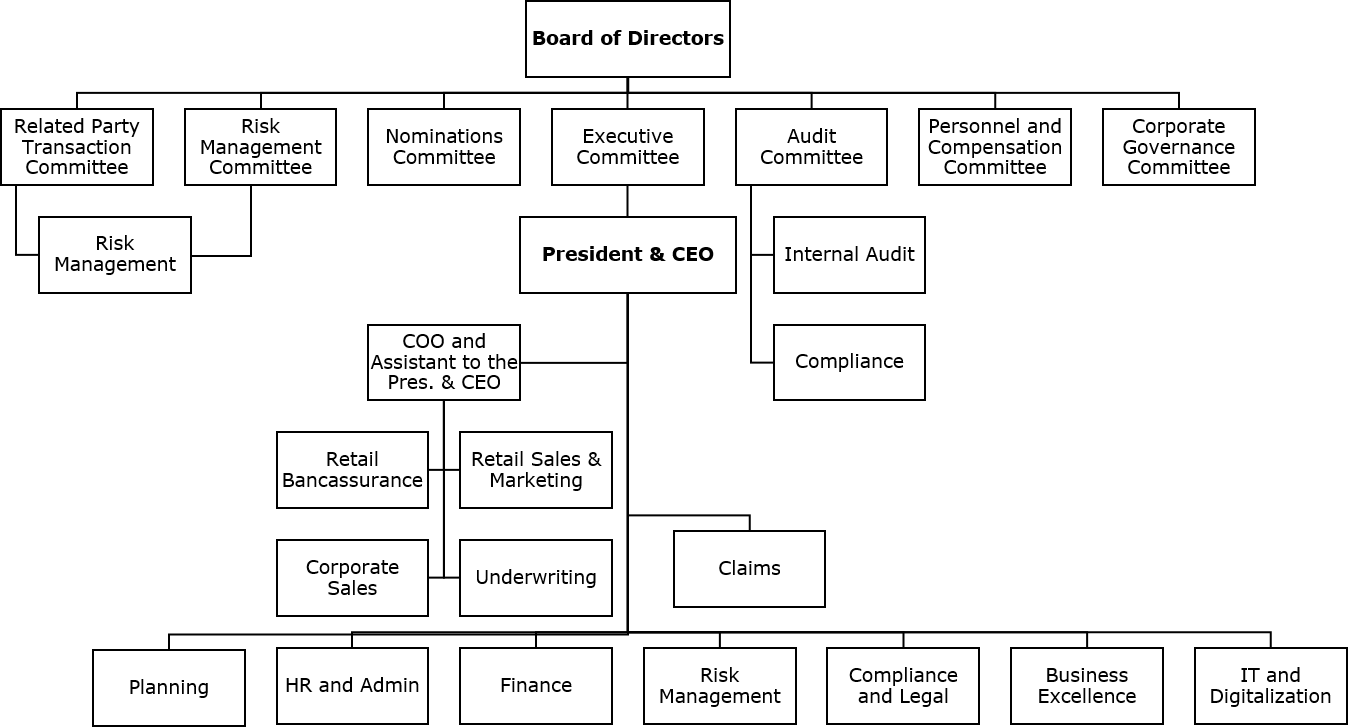 OFFICE OF THE PRESIDENT
Taizo Komatsu
President and CEO
Hiroaki Matsubara
Chief Operating Officer
RETAIL SALES AND MARKETING DIVISION                
Anthony Lou M. Bernabe
Business Director
BPI CORPORATE AND DIRECT SALES
Jonard P. Abayan
Senior Manager
Jaime A. Antuñez
Senior Manager
Ulysses Rey B. Peralta
Manager
Marc Jason C. Sy
Manager
HO AGENCY AND DIRECT SALES
Bernadette A. Nuñez
Assistant Director
Joy Mari E. Sy
Senior Manager
Mary Flor C. Carreon
Manager
NATIONAL DEALERSHIP SALES
Diosdado B. Umadac
Assistant Director
AGENCY, DEALERSHIP BRANCH DIRECT SALES
Miguel M. Bernardo
Director
Maria Catherine A. Garchitorena
Manager
Stephanie Monique D. Abordo
Manager
Debbie R. Baluyot
Manager
Dianne Grace D. Villa Abrille
Manager
BRANCH DISTRIBUTION
Sharon A. Rocaberte
Senior Manager
Isaac B. Aguilar
Manager
Jenalyn W. Bautista
Manager
Nescelyn S. Feudo
Manager
Jonalyn B. Magalona
Manager
Mariliza M. Nonato
Manager
Rizaldy A. Panotes
Manager
Jerry S. Sabio
Manager
Annabelle O. Ymbang
Manager
Emmanuel M. Oquendo
Manager
Sharmin Claire S. Avila
Manager
Rissa Renea S. Daaca  
Manager
Rolando D. Basa
Manager
Richard G. Palec
Manager
Genifer G. Salinas
Manager
MARKETING AND STRATEGIC INITIATIVES
Emmanuel H. Tolentino
Manager
Pamela Patricia C. Ticzon
Manager
Adrienne Nicole R. Feliciano
Manager
Gilbert N. Torres
Manager
POLICY ISSUANCE AND PROCESS ENHANCEMENT
Renato J. Sunga II
Senior Manager
CREDIT AND CONTROL
Armando C. Quiambao, Jr.
Senior Manager
Dominic O. Galang
Manager
Rachel M. Villanueva
Manager
BRANCH AND SALES QUALITY MANAGEMENT
Marlon M. Olan
Director
Quina Angela S. Ongoco
Manager
RETAIL BANCASSURANCE DIVISION
Luis Victor T. Herrera
Director
Arnold C. Mendiola
Assistant Director
John Jay G. Nigos
Senior Manager
Joanna B. Vicente
Senior Manager
Ma. Diana B. Macandog
Senior Manager
Karen R. Abila
Senior Manager
Leizel B. Aggabao
Manager
Jerson B. Dela Cruz
Manager
Irene A. Dizon
Manager
Cherry Rose P. Gealon
Manager
Ryan M. Seballa
Manager
Gerald Milan L. Tabudlong
Manager
CORPORATE SALES DIVISION
Yuki Inoue
Director
BROKERS 
Hazel T. Quiambao
Assistant Director
Jeanette F. Judi
Manager
JAPANESE BUSINESS 
Helen Grace C. Balmori
Assistant Director
Hideyuki Kobayashi
Assistant Director
Leoncia G. Panaligan
Senior Manager
Maria Ana Grace G. Ambay
Manager
Ermabelle Q. Romasanta
Manager
UNDERWRITING DIVISION
Jose Augurio N. De Vera, Jr.
Director
PROPERTY AND ENGINEERING
Felicito C. Llemos, Jr.
Assistant Director
Irwin Allen M. Dizon
Senior Manager
Bernardo E. Celucia
Manager
Paul Jordan A. Matusoc
Manager
UNDERWRITING PLANNING
Carisse Aileen L. Canda
Senior Manager
MOTOR AND MARINE
Rene D. Navarro
Senior Manager
Angelito M. Lampa
Manager
MISCELLANEOUS LINES
Maria Janelyn B. Rabanes
Senior Manager
Erika Marie F. Trinidad
Senior Manager
Sheryll L. Buhawe
Manager
Razel E. Antonio
Manager
REINSURANCE
Moises M. Pre Jr.
Assistant Director
Jose Mari L. Morato
Manager
CLAIMS DIVISION
Anna Christina P. Gomez
Director
Jackie Lou S. Pacamalan
Assistant Director
Tomofumi Mukai
Senior Manager
Roann S. San Pedro
Senior Manager
Joan C. Valdeabella
Senior Manager
Jeanelyn H. Abanid
Manager
Frederick J. Balastigue
Manager
Maricel C. Espiritu
Manager
Alma B. Estavillo
Manager
Sherry Jane A. Magalona
Manager
Gladys Shelly R. Sales
Manager
Marrianne L. Tacas
Manager
Cloudette D. Vallejos
Manager
BRANCH MANAGEMENT
Sheryl S. Serwelas
Senior Manager
Michael Arnel C. Bonagua
Senior Manager
Mildred R. Biagtan
Manager
Nancy T. De Ocampo
Manager
Melissa B. Nacua
Manager
BUSINESS EXCELLENCE AND LEARNING & DEVELOPMENT
Milanie B. Buelo
Assistant Director
CONTACT CENTER
Ma. Blessilda A. Lucero
Senior Manager
LEARNING & DEVELOPMENT
Milagros Lydia M. Balangue
Manager
QUALITY MANAGEMENT SYSTEM
Christine S. Dollosa
Manager
CORPORATE PLANNING
Florence L. Macasaet
Director
Karen Ann C. Abad
Manager
HUMAN RESOURCE & ADMIN
Nestor Maurice C. Dantes Jr.
Director
PAYROLL, BENEFITS & RECORDS
Carmina D. Macaballug
Senior Manager
Joanne Jennifer C. Mananguit
Manager
HR MANAGEMENT
Brenda M. Dela Cruz
Manager
FINANCE
Merlina P. Mendoza
Director
CORPORATE ACCOUNTING
Cherryl Marie D. Chavez
Assistant Director
CUSTOMER ACCOUNTING AND BRANCH MANAGEMENT
Roxanne S. Simbulan
Manager
ACTUARIAL
Jose Alvaro T. Quintos
Manager
FINANCIAL PLANNING & CONTROL
Krizza Maris P. Velasquez
Manager
RISK MANAGEMENT
Miguelito E. Pagadora
Senior Manager
Jean Paula O. Pereja
Manager
COMPLIANCE AND LEGAL
Danielle Maria S. Tort
Director
COMPLIANCE
Mary Ann S. Sta. Maria
Senior Manager
LEGAL
Janine D. Villabeto
Senior Manager
IT AND DIGITALIZATION
Edgardo R. Jimenez
Business Director
DIGITAL STRATEGY AND PROGRAM MANAGEMENT
Malaya V. Del Rosario
Director
TECHNOLOGY, ANALYSIS AND QUALITY
Jesusa G. Sacman
Assistant Director
Raffy D. Rebullar
Manager
PROJECT MANAGEMENT OFFICE
Abegail A. Acosta
Manager
APPLICATION DEVELOPMENT
James Christopher S. Valeriano
Manager
PROJECT SUPPORT AND DEVELOPMENT
Analyn G. Salvador
Senior Manager